Today I am literally stepping outside the box! Halloween is definitely the occasion that is the most fun for me when it comes to cardmaking, and I knew that the Happy Haunting Set (Sku #4940) from Art Impressions required something special. This set is just screaming for you to make a scene! I decided that I would learn how to make a shadow box card:
I started by cutting a circle mask from a post-it note, and used my Distress Inks to sponge a spooky night sky:
I cut two pieces of black cardstock 5" x 7", scoring at 1/2" and 2". On one of them I used a 4" square die to cut out a window:
Using some lime green cardstock, I cut three hillsides in graduated heights, and scored each of them 1/2" from each side to attach them to the walls of the shadow box:
I coloured up the haunted house and owls on a branch using my Copic markers (I'm all about bright and fun for Halloween, so that dictated my colour choices):
I trimmed the background panel to 5" square, stamped the tree and bat, and trimmed the highest hillside piece to fit on it and glued it all down. I joined the two black pieces together, folding on the score lines. The house is attached to the middle piece, which sits 3/4" in front of the back:
I glued it all together, added the owls and the lowest hillside to the front of the box, and here is the finished product:
I stamped one of the seven sentiments that is included with the set, and I (ahem) *may* be sneaking a peek of a not-yet-released product that will be available soon on the Ai website! (shhh...) I had a blast making my shadow box, it took a little longer than your typical card, but the end result was worth it - oh, and it folds perfectly flat for mailing!
The new challenge on the Ai blog is "Off Kilter" - we want to see your tilted panels on your creations. *I'm going to go with tilted fences on mine! Here are all of the Halloween/Thanksgiving sets that are now available on the Art Impressions website: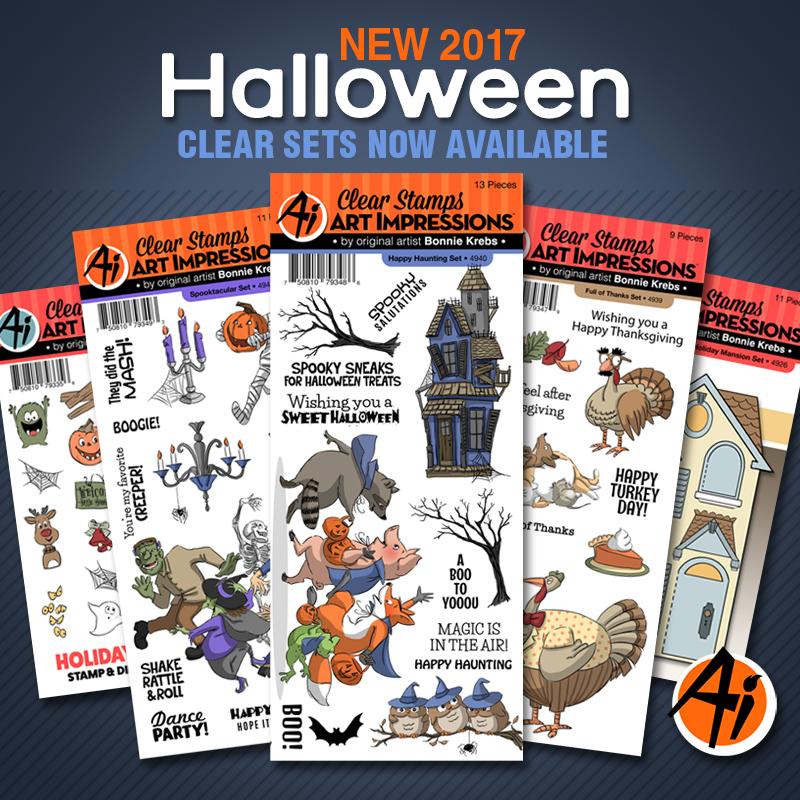 Happy stamping!